The Horsley parish register mentions Thomas and Hannah Knifton 'of Tanton alias St Anthony's Cross'. They are my earliest known Knifton ancestors.
Tantin Cross no longer exists as a place name, but was part of Coxbench village in Derbyshire. Kelly's 1891 Directory refers to 'Coxbench, anciently called St Anthony's Cross...' while a handbookfrom 1892 notes that 'the old name for that part of Coxbench, which is now in the parish of Horsley, was, according to the registers, called "Tantin's" or "St Anthony's Cross".' 1 Tantin Cross may have been the triangular area formed by three roads, as shown on the 1844 Tithe Map of the area. St Anthony's Well can be found today, near to where the A38 passes the village, although this was erected in 1611 in a cottage garden and moved to its current location in 1979.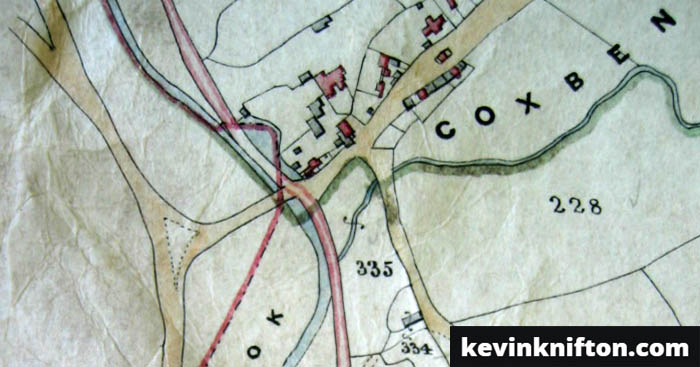 Thomas married Hannah in the 1680's or 1690's. Her maiden name is currently unknown, but there are two possible marriage records. The first is a marriage in the nearby village of Duffield on 11th July 1686 between 'Thomas Kniveton of Horsley' and 'Hannah Taylour of Belper'. The second is a marriage on 5th June 1693, also at Duffield, between Thomas Kniveton and Hannah Burton, both of Mugginton. Which marriage was theirs is yet to be determined, but Mugginton is connected to several descendants of Thomas and Hannah.
Thomas and Hannah are known to have had at least three children. Their first son was born in 1697 and was named Thomas. He was baptised on 23rd August 1697 at the Church of St Clement and St John, Horsley. Their other known children were Elizabeth and William, although it is not yet known when they were born.
In July 1718, Thomas and Hannah's son Thomas was killed. He was working at a quarry at High Wood when he was 'crushed by enormous masses of rock'. He was buried on 26th July 1718 aged 20 and the circumstances of his death were recorded in the parish register.
One year later, Thomas and Hannah's daughter Elizabeth died. She was buried on 28th August 1719 at Horsley.
Although it is not known exactly where Thomas and Hannah lived, their home in the 1720's included a kitchen, a bedroom, and a backhouse. The occupation of Thomas is also unknown, although he kept at least four cows and had a barrel churn, which was used to make butter.
Thomas died in March 1721 and was buried in the churchyard of St Clement and St John, Horsley, on 29th March.

Thomas did not make a will and Hannah was required to have an inventory taken of his effects in order to calculate death duties. The inventory was made on 4th April 1721 and had a total value of £12 17s. 2d. Included in the inventory were his purse and clothing, furniture, cutlery, bedding, and '4 old cows' (which, oddly, were in the chamber).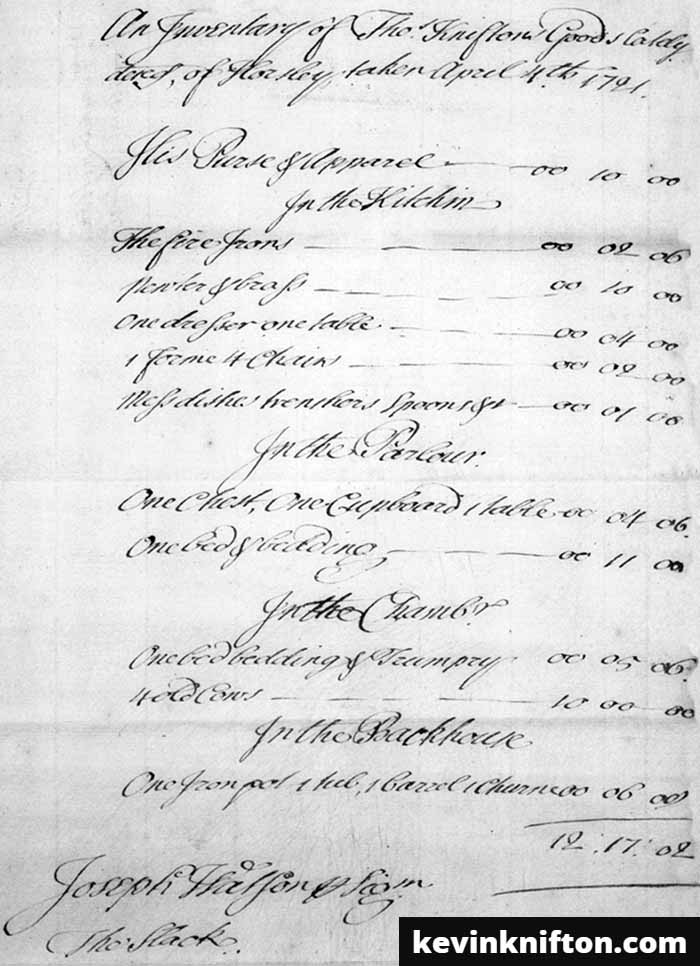 Probate for Thomas' effects was granted to Hannah on 18th April 1721 at Derby.
Just over seven years later, Hannah died in October 1728 and was buried on 12th October at Horsley.

Like Thomas, Hannah did not leave a will. An inventory of her effects was taken on 28th October 1728 and provides an insight into the household items Hannah had at the time. Two kettles, two iron pots, pewter dishes and tankards, an andiron, hanging spits, a toasting fork, a frying pan, a kneading tub, a feather bed, three candlesticks, two looking glasses, together with one cow, are included in the list. The total value was £7 8s.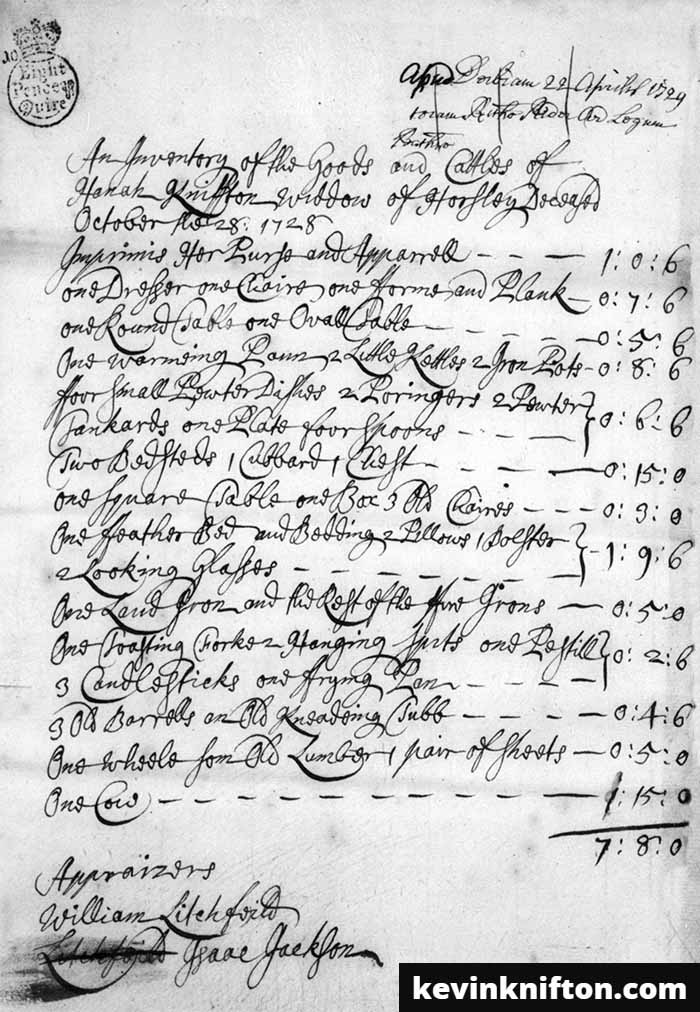 Thomas and Hannah Knifton were my Great-Great-Great-Great-Great-Great-Grandparents.