James William Knifton, the son of Curtis and Sarah Knifton, was born in 1861 and baptised on 22nd December at Horsley parish church, Derbyshire. As a child he lived with his family at Blue Post Farm (also known as Common Farm), Hulland Ward, but by 1881 he was farming 60 acres at Herbalshaw Meadow, Mugginton. James was living with his older sister Sarah, who on the census return was described as a house keeper.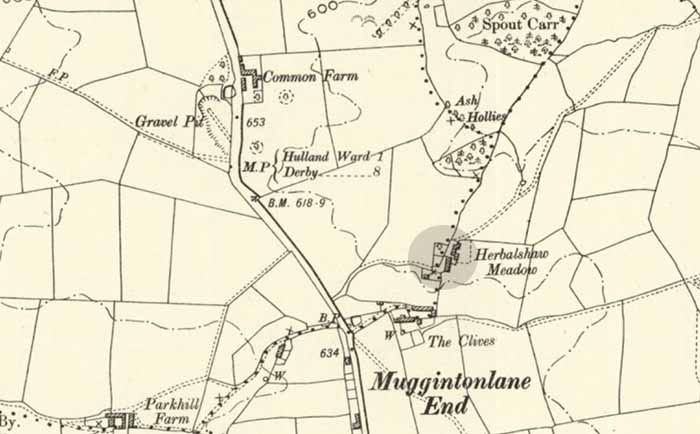 On 16th June 1887, James married Harriet Riley at St James' Church, Idridgehay. Harriet was born in 1864, the daughter of Abel, a farmer of Hulland, and Hannah Riley. In 1881 Harriet was working as a housemaid at Charnwood House, Osmaston Street, Derby, the home of a watch maker and jeweller. However, within seven months of their marriage, Harriet died on 7th January 1888, aged 23. She was buried in the churchyard of All Saints' Church, Mugginton.

James married Sarah Helen Russell on 26th June 1889 at St John the Evangelist's Church in Derby. Canon Alfred Hall Prior officiated at their wedding, which was witnessed by Sarah's father James, her aunt Eliza Russell, and her sister Rose. At the time of their marriage, James was living at Mugginton and Sarah was living at York Street, Derby.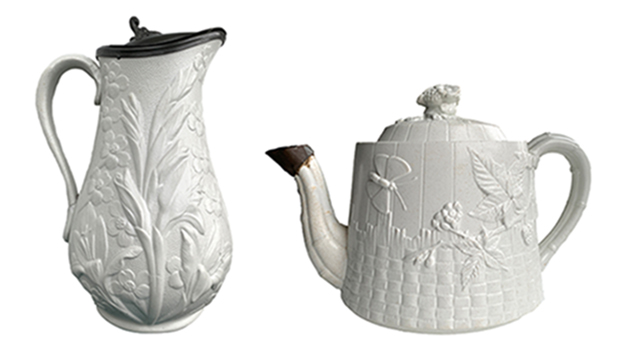 Sarah Helen Russell was born in 1868 at Stowe Street, Lichfield, the daughter of James and Fanny Russell. She was baptised on 2nd August 1868 at St Chad's Church, Lichfield. James Russell was a shoe maker and the family moved from Lichfield to Derby when Sarah was an infant. In 1871, aged 2, she was living with her parents at 4 Mill Street, Derby. Sarah attended school, perhaps at St John's School which was opposite their home, and in 1881 was still living at 4 Mill Street with her parents and her two younger sisters.

James and Sarah's first child Eva was born in 1890 and baptised at St Barnabas, Derby. At this time James was living in Mugginton but St Barnabus was close to Mill Street where Sarah lived before their marriage, so was perhaps the Russell family's church.
The April 1891 census records that the family were living at Herbalshaw Meadow, with James being a farmer.
Between 1891 and 1893 the family moved to Red Hill Farm in Makeney, which would remain the family home for almost forty years. Today Red Hill Farm is a grade II listed building but was then a working farm on the Strutt Estate. The farm was built in 1834 from coursed stone and contained the farm house, cart sheds, stables, and cow sheds.
This framed print belonged to James and hung on the wall at Red Hill Farm.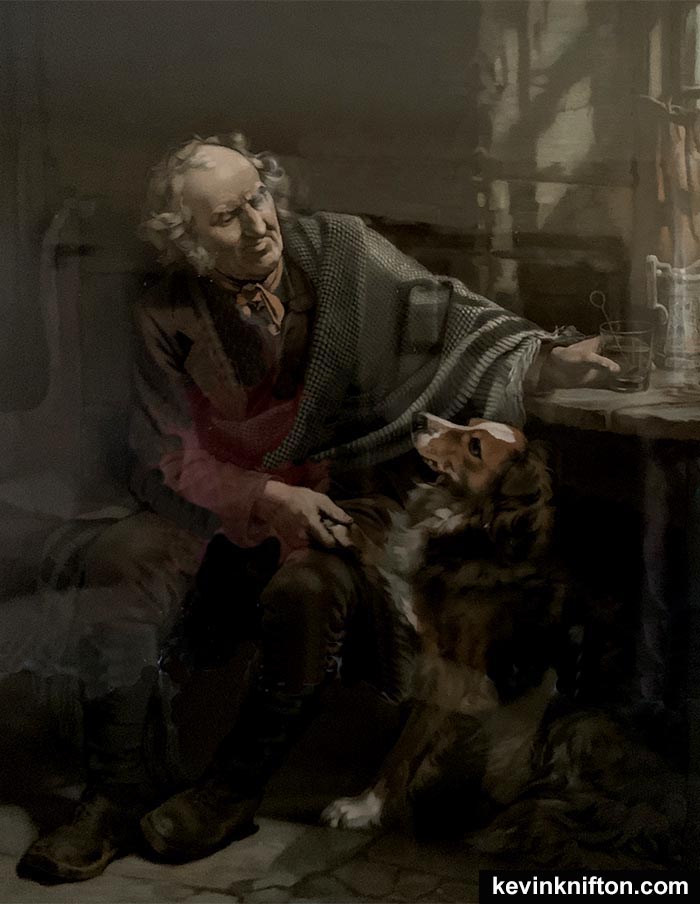 James and Sarah's second child Frank was born in January 1893 and baptised at Holy Trinity Church, Milford on 19th February. On the same day, James' second-cousin William Knifton and his wife Emily also had three of their children baptised at the same church.
On 2nd November 1893 James gave evidence at the Police Court in Belper relating to damage caused to a fence on his farm.

James and Sarah's second son Harry was born in November 1894 and baptised at Holy Trinity Church, Milford on 6th January 1895. Harry was followed by John ('Jack') Knifton in September 1896 and their second daughter Florrie in April 1898, both children being baptised at Milford and James' occupation recorded as a farmer.
On Tuesday 2nd January 1900, James William and Sarah Helen were among three hundred invited guests who attended the birthday banquet of George Strutt in celebration of his twenty-first birthday. The event was held at the Public Hall in Belper, with guests arriving from 1.30pm. The tenant farmers were seated in the small hall, while the Strutt family and other guests were seated in the large hall. The menu included mock turtle soup, turkey, beef and pheasants. The wines listed were 'Claret : Duchazean Listrac. Champagne : 'Midland.' Port : 1884'. James' second-cousin William Knifton and his wife Emily also attended the celebrations.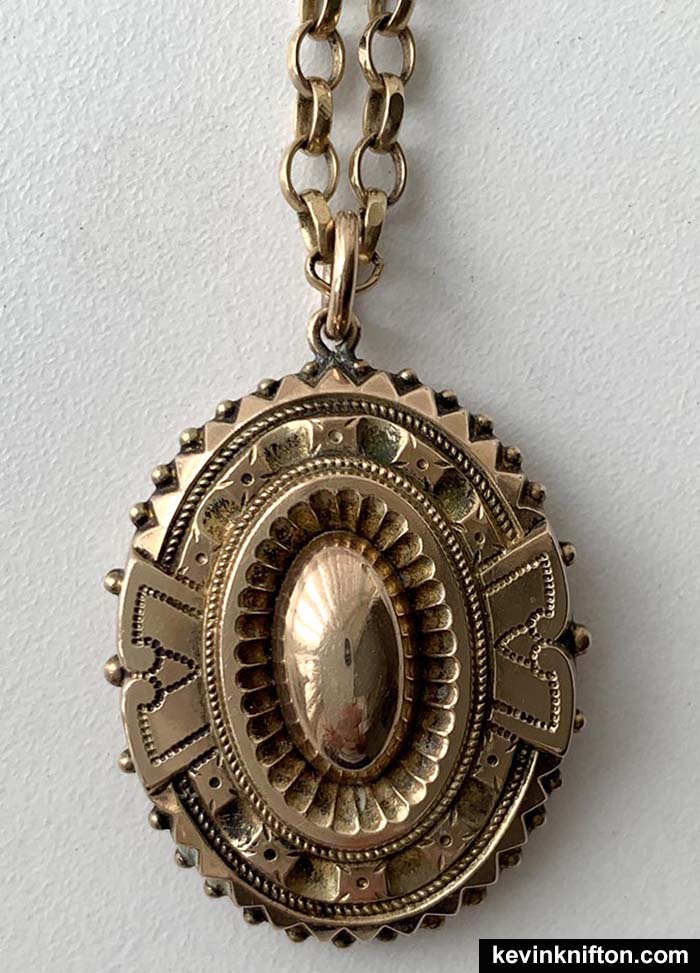 In April 1903 James was included in the list of subscribers to a gift from the land-tenants of George Herbert Strutt's estate on the marriage of his daughter. The gift was described in the local newspaper as a 'beautiful sterling silver candelabra and pair of candlesticks' which 'weighed 80ozs., and was a fine specimen of Sheffield workmanship'.
On Thursday 3rd December 1903 'Mr and Mrs James Knifton (Makeney)' were included in the list of 350 guests invited to 'The Tenants' Ball' at Bridgehill House, the home of the Strutt family. The Ball, the second held over two days, was in honour of George Herbert Strutt being appointed as High Sheriff of Derbyshire. The local newspaper reported that the weather was 'miserably corse and wet', with dancing commencing at 9:30 p.m. and supper being served at 11 p.m.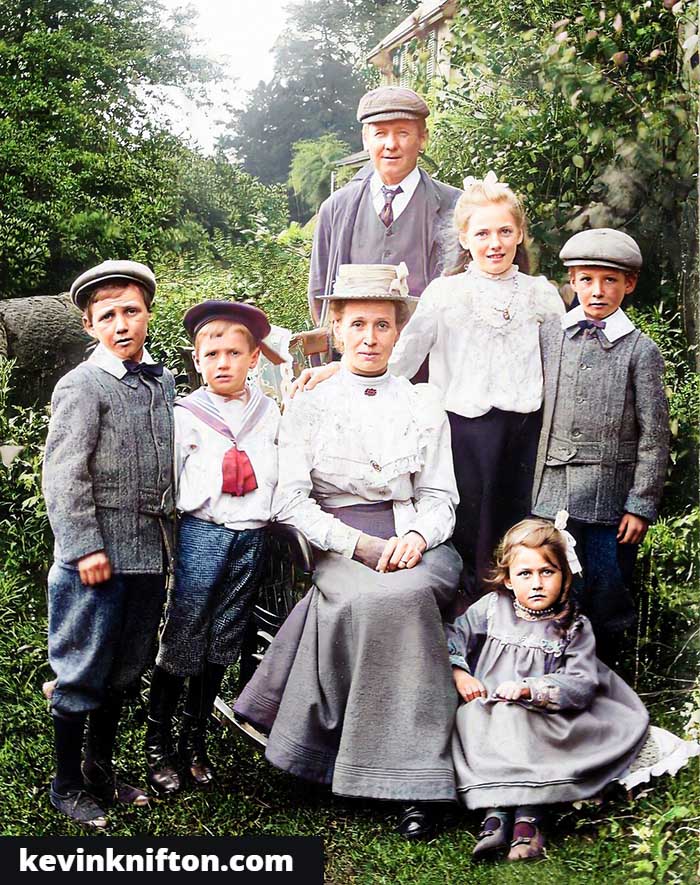 James used to wear a silver pocket watch but this was stolen during a house theft in the 1980's.
Adela Strutt, the eldest daughter of George Strutt, married in August 1904 and included in the list of presents to the bride were 'two Spanish lamb rugs' from Sarah Helen Knifton.
James and Sarah's sixth child James 'Russell' was born in May 1906 and baptised at Holy Trinity Church, Milford on 8th July. Russell was thought to have been their last child, but the 1911 census notes that Sarah had seven children, one of which had died. The details of this child are currently unknown.
An odd discovery on the farm was reported on 8th April 1908.

James William Knifton died on 19th December 1910. It is said that while he was ill he lay in bed and thought he was holding the leash of his horses. There are two accounts of his death which have been passed down the family. The first is that while James was cutting hedges he got a thorn in his hand, was rushed to bed, and died from blood poisoning. Known as quick thorn, this was a common cause of illness amongst farmers at the time. The second account is that James was bitten on the nose by a ferret and septicaemia set in. The local newspaper gave a third account.
The day and month in which James William Knifton was buried, 22nd December, was also the day he had been baptised 49 years earlier.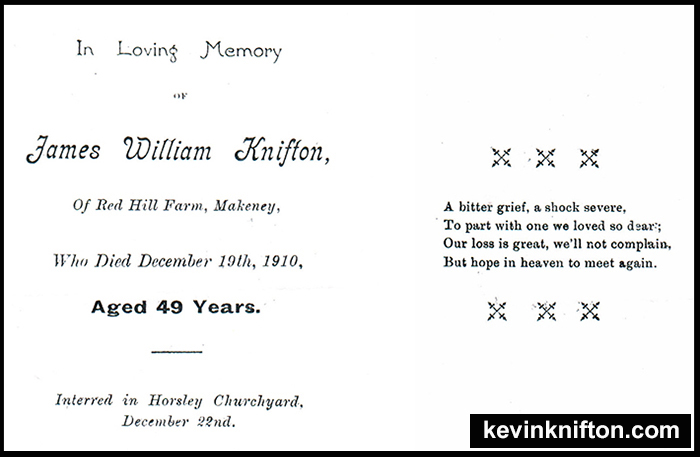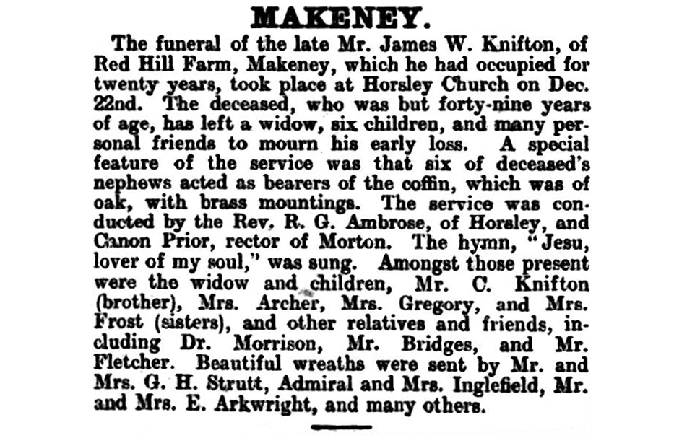 In his last will and testament of 24th February 1904, James wrote 'I give devise and bequeath all my estate whether real or personal and wheresoever situate unto my dear wife Sarah Ellen Knifton absolutely and I appoint her sole Executrix.' Probate for his estate was granted to Sarah at Derby on 21st January 1911 with a value of £659 9s. 3d.
After the death of her husband, Sarah continued to run Red Hill Farm.

In June 1914 Sarah had a lucky escape from injury.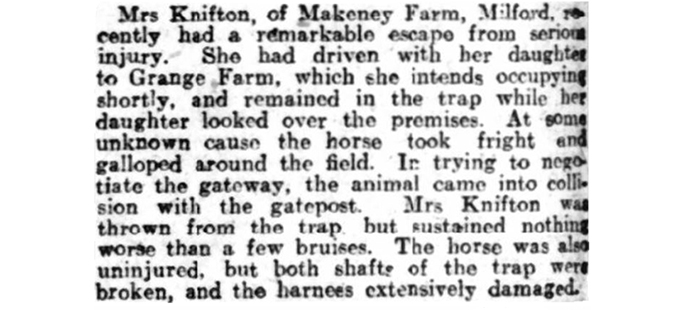 As well as Red Hill farm, Sarah also took on Grange Farm, supported by her three oldest children, with Eva doing dairy work, and Frank and Harry farming.
Sarah saw her daughter Eva marry Wilfred Joseph Alton on 9th June 1915. In reporting the marriage, a local newspaper noted that 'the bride comes from a well known Milford Family'. After their marriage, Eva and Wilf lived at Common Farm, Radbourne.
Sarah's father James Russell died on 24th February 1917, aged 76.
In June 1921, Sarah's son Frank married Esther Marion Smith. Frank took over the tenancy of Grange Farm from his mother, including the animals and implements on the farm. Sarah noted that these items were to be valued 'in the usual way as between outgoing and incoming tenant' and that instead of paying cash, their value would be taken into account as part of the share of her estate due to him upon her death.
Sarah's mother Fanny died on 20th March 1930, aged 90. Only five days after the death of her mother, and on the same day that her mother was buried, Sarah died on 25th March 1930, aged 61. She was buried in the same grave as her husband on 29th March.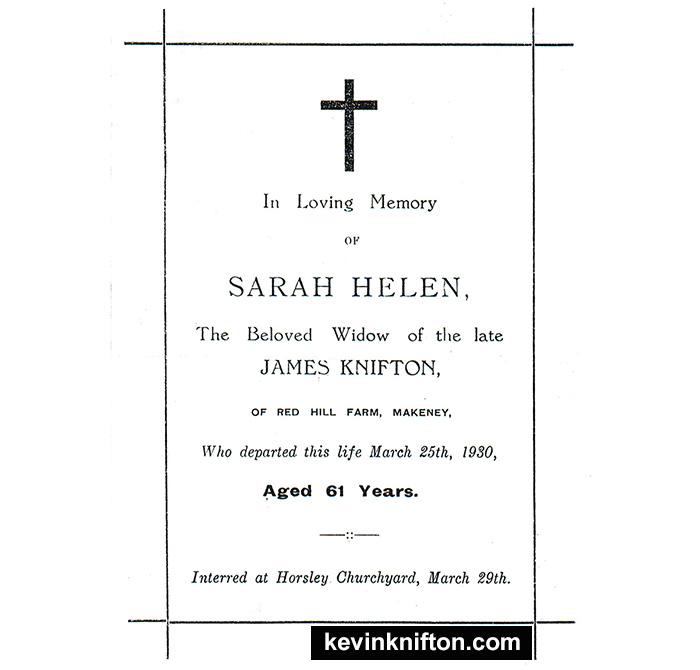 Originally the top of the grave was grass, but later their son Harry collected snowdrops from an orchard and planted them on the grave, arranged in the shape of a cross. This white cross can be seen between January and March each year. Daffodils can also be seen at each corner of the grave.
James William and Sarah Helen Knifton were my Great-Grandparents.