Curtis Knifton was born in 1822 at Kilburn, Derbyshire, the son of William and Harriet Knifton. He was baptised on 30th August 1822 at the Church of St Clement and St John, Horsley.
In 1832 when Curtis was 10 years old, his mother Harriet died, aged 29, although his father remarried in 1838.
Curtis grew up at Horsley Park Farm, working as a farmer with his father.
On 11th July 1848 Curtis married Sarah Parker at Horsley parish church. Sarah was a schoolmistress at the village school, the daughter of James Parker, an Inn Keeper, and Hannah. She was born in 1822 at Horsley. A local resident, Thomas Needham, kept a diary which records various events in the village. An entry in July records 'Curtis Knifton and Sarah Parker was married July 11th 1848, they was married at Horsley.'

Curtis and Sarah started their married life at Horsley, where their first two children were born; Eliza was baptised on 18th February 1849, and Robert who was baptised on 20th October 1850.
Between October 1850 and March 1851 Curtis moved to Hulland Ward. The census taken for 30th March 1851 records that Curtis was farming 73 acres and employing one labourer, at Hulland Ward. Sarah was back at Horsley, at the home of her father, and working as a dress maker, while their two young children were with their grandparents in Horsley. Sarah and the children moved to Hulland Ward shortly afterwards.
Despite living at Hulland Ward, Curtis and Sarah considered the Church of St Clements and St John at Horsley to be their family church. They made several journeys back to Horsley where they had their next four children baptised; Joseph on 18th March 1855, Curtis on 26th July 1858, Peggy on 5th October 1856, and Sarah on 24th July 1860. Each entry in the parish register records that Curtis and Sarah were living at Hulland Ward.
It would have been possible to walk from Hulland Ward to Horsley in about three hours, but with a young family it is likely that Curtis and Sarah used a horse and trap. The Wirksworth line of the Midland Railway and nearby Shottle station, which would connect the family to Coxbench and Horsley, did not open until 1867.

Sarah's father died on 18th May 1854 and Curtis' father died in January 1858.
In 1861 Curtis and his family are still living at Hulland Ward. On 22nd December 1861 they had their seventh child James William baptised at Horsley.
Curtis was one of the executors of the will of Mary Salt, a spinster of Mugginton, who died on the 5th September 1865. Her will was proved in the District Registry of Her Majesty's Court of Probate, at Derby, on the 9th October 1865, by Curtis Knifton and John Wilmot, to whom administration was granted.
Curtis and Sarah's last child, Harriet Hannah, was born in August and baptised on 15th September 1866 at All Saints' Church, Turnditch. Perhaps Harriet was too ill to make the journey to Horsley where all their previous children had been baptised, since a few months she had died. Harriett Hannah Knifton was buried on 9th December 1866 in the churchyard at Turnditch. She was 5 months old.
On the 1871 census, Curtis is still a farmer of seventy three acres at Hulland Ward. The farm is recorded as 'Blue Post Farm' but this also appears to have been known as Common Farm, which is the address his daughter Peggy gave when she married in 1879.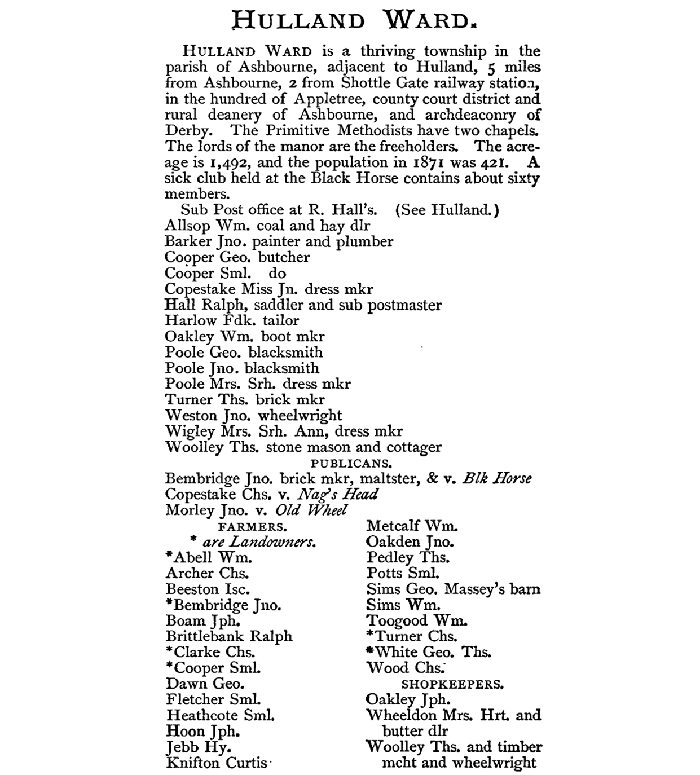 The 1881 census records that Curtis and Sarah are still at 'Blue Posts'. Curtis was now farming 78 acres with his son Curtis, described as a 'wagoner', and an agricultural labourer. They were also employing a domestic servant.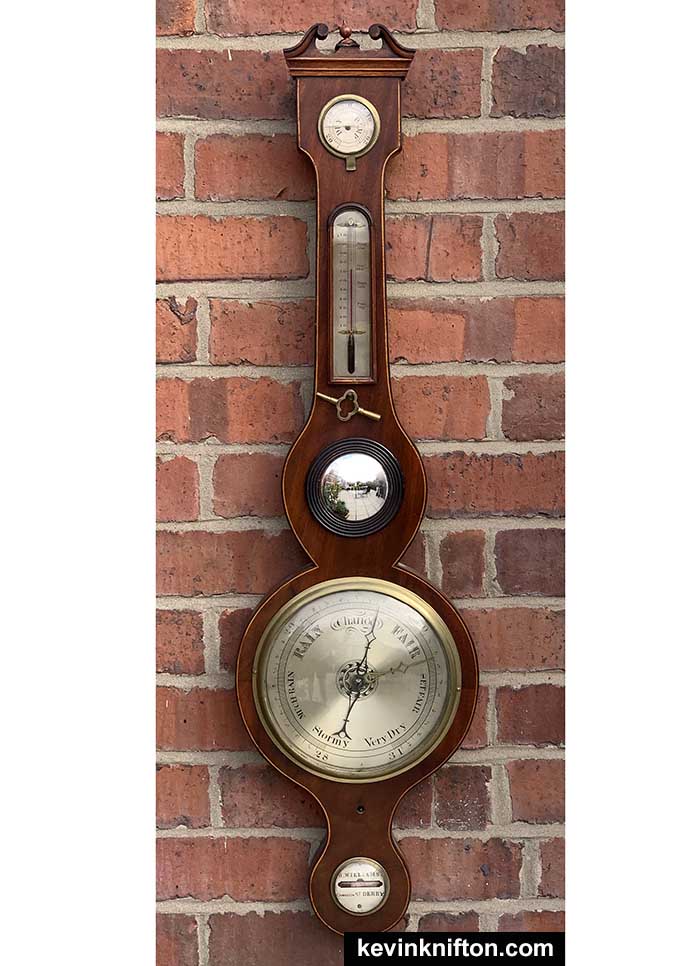 In April 1885 Curtis Knifton was included in the list of overseers nominated for Mugginton by the magistrates for the Derby Petty Sessional Division of Derbyshire.
Curtis retired from farming in 1890 when he was 68 years old. He arranged for an auction to be held at his farm on Thursday 30th March 1890 to sell his animals and farming equipment. This notice shows that Curtis kept cows and sheep, and had two horses working the farm.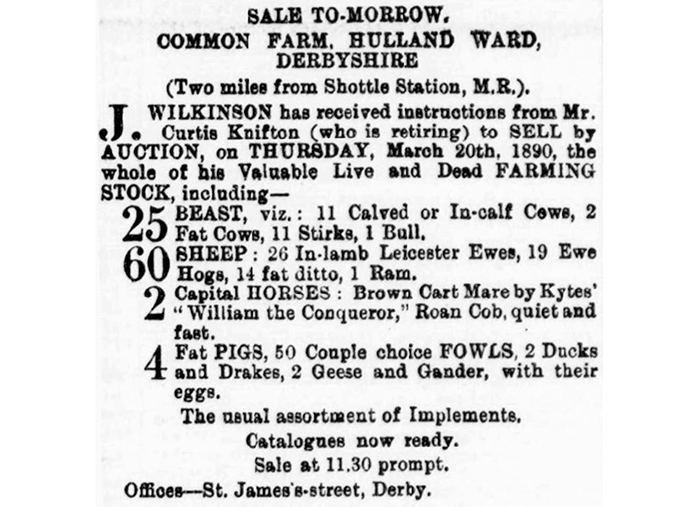 On 20th July 1890 Curtis and Sarah's married son Robert, a farmer at Prestop Park Farm in Ashby-de-la-Zouch, died when he fell 15 feet from a ladder, hitting his head on a wall. He was 39 years old.
By April 1891, Curtis and Sarah had moved to their cottage in Windley, with Curtis now in retirement and 'living on own means'. However, shortly afterwards they moved to the home of their married daughter Eliza at Middle Farm, Wild Park, Mercaston, perhaps so that she could care for them.
Sarah Knifton died on 7th August 1891 at Mercaston, aged 69. Probate for her effects of £145 0s. 7d. was granted to 'Curtis Knifton gentleman' at Derby on 19th May 1893.
Curtis Knifton died on 8th November 1897 aged 75. Both Curtis and Sarah Knifton were buried in All Saints' churchyard, Mugginton.
In his will, Curtis directed that his 'real estate consisting of two cottages situate at Windley in the County of Derby' be sold and that 'the money arising from such sale together with the money at my bankers' be used to 'pay to my daughter Eliza the sum of six shillings per week dating from the first day of June, 1893 until the time of my decease to remunerate her for my maintenance during that period'. The residue of his estate was divided equally between five of his six surviving children. The two cottages appear to have been sold to Curtis' son Curtis, who was later to bequeath them in his will.
Curtis and Sarah Knifton were my Great-Great-Grandparents.